Case Managers
Students' personal situations may negatively impact their well-being or academic life. In other instances, students' actions may disturb campus community members. In these situations, Case Managers are available to receive reports of concern and help determine an appropriate response to assist the student and those who may also be impacted by the situation. Case Managers are available to consult with or provide training for campus community members who would like to better support students of concern. Case Managers must abide by FERPA laws, which means they are a private, not confidential resource.
The Case Managers can assist enrolled students with the following:
Academic support including notifying professors regarding missed classes, dropping a class, withdrawal, etc.
Referrals to campus and community resources
UCLA Emergency housing and/or exploring housing options
Consultation for the university community regarding students in distress
Contact information for the Case Managers:
To refer a student to a Case Manager please submit an online report here:
Please note: Case Management Services is currently operating in a hybrid (virtual and in-person) model. Please use the "Refer a Student" link on our website to connect a student to a Case Manager. Thank you!
For students in emergent circumstances (i.e. expressing a plan for suicide, making threats to others, or actively engaging in unsafe behaviors), please call 911 first and then submit a referral for us to follow up post-crisis.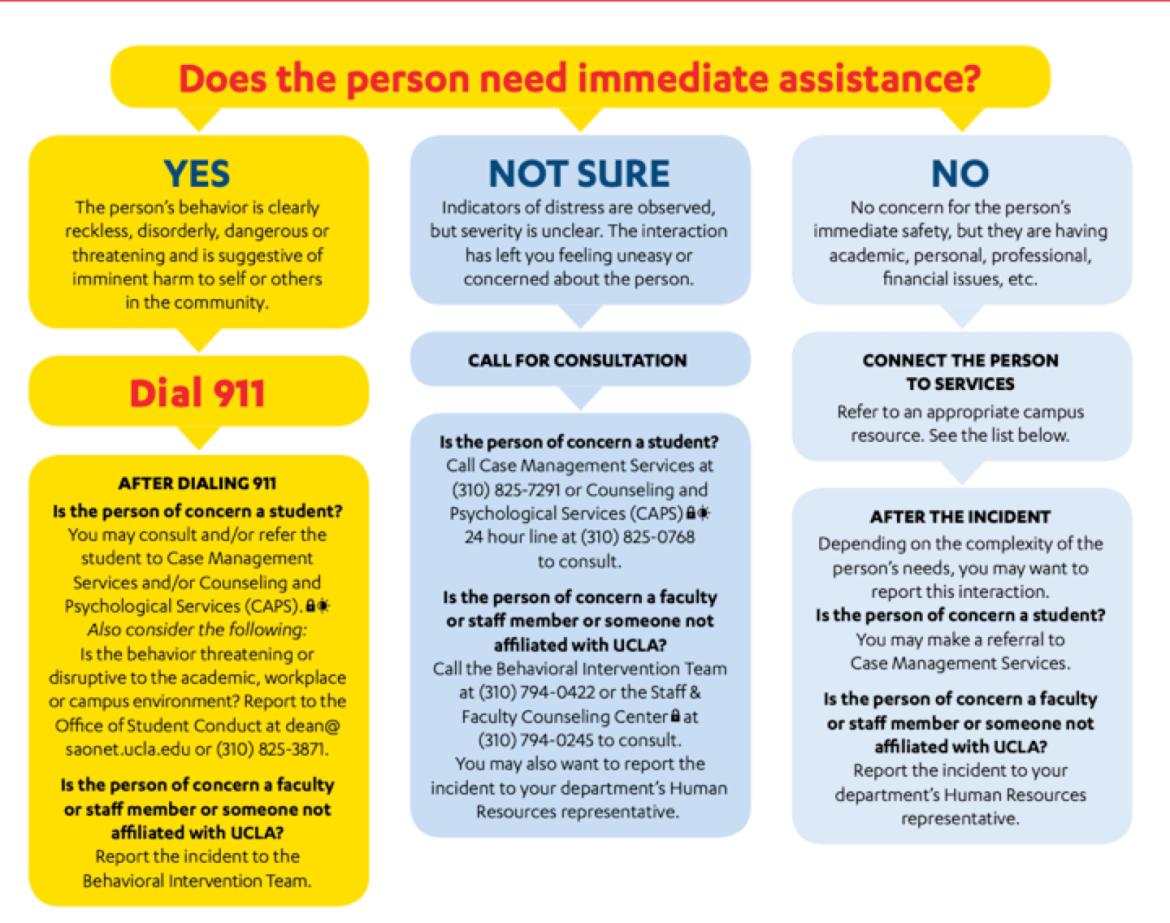 Please refer to the Red Folder for more guidance on appropriate steps to take.
Please keep in mind that the Case Managers do not maintain 24 hour access to email or phone. All Case Managers can also be reached by calling (310) 825-7291 or by emailing CRTeam@ucla.edu:
Emily Harris
Director, Case Management Services
Dasha S
Program Coordinator, Case Management Services
Karen Minero
Manager, Training & Outreach
Hillary Thomas
Case Manager, Dashew Center for International Students & Scholars
John Kennedy
Case Manager
Stephanie Luna
Case Manager, Division of Graduate Education
Alejandra Cardenas
Case Manager
Nick Blake
Case Manager, Bruin Resource Center and Black Bruin Resource Center
Brianna Frazier
Case Manager